News
News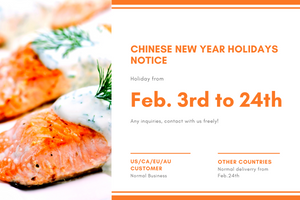 Spring Festival Holiday Notice 0
Chinese New Year Holidays Notice
GERYON would like to inform you that we will be coming on Feb.3rd for the Chinese New Year Holiday, and we will resume on Feb.24th. Although we will be accepting orders during this time, all deliveries and inquiries will be on hold until the holiday period is over.

About Orders & Shipping

For the customers of US, EU, CA, AU countries, our local warehouse still works. So that in this holiday, we still can ship the goods to you. As domestic staffs are on holiday, processing orders may be delayed. We will ship it for you within 48 hours.
For the customers of other countries,  all orders received after Feb.3rd will be shipped out from Feb.24th. Since domestic express companies will unify this time for holidays, please wait patiently.

About Inquiries

In order to provide our best services for you, please kindly help prearrange your requests in advance. If you have any emergencies during the holidays, please feel free to contact us at sale@geryonkitchen.com.
Any inquiries made during the holiday period will be replied to in order. We will generally reply within 2-3 working days.

Please bear with us, as it may take a little while to catch up with processing any orders and inquiries upon our return. 

At the early of the year 2021, we would like to express our best wishes and thankfulness for your great support in the past year!