geryon vacuum sealer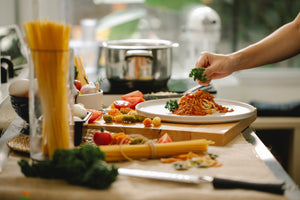 Classic pasta recipe 0
Spaghetti with meat sauce is a classic of pasta. No matter how small a western restaurant or coffee shop, there will be a spaghetti with meat sauce on the chef's menu. In fact, a classic spaghetti with meat sauce can be easily prepared at home, and it is full of ingredients. The sweet and sour tomatoes are mixed with the aroma of beef, and the soft and chewy pasta is dipped in delicious and rich sauce. Such a spaghetti with meat sauce is indeed a classic of pasta!
Choose the right pasta and portion
Boil a lot of water in the pot. Put the pasta down on medium heat and cook, occasionally using chopsticks to scatter the pasta to prevent sticking.
During the cooking process, you can prepare the meat sauce (cook on medium heat for about 10 minutes).
Wash the onions and tomatoes and diced. Mince beef, add a small amount of salt, shallots, chicken powder, and sugar to marinate. Then heat the pan to add butter, melted, pour in the minced meat and stir-fry until the meat is fragrant. Pour in the onion diced and diced tomato in turn and stir-fry. Then seasoning and simmering for a while.
After the pasta is cooked, pick it up, rinse with cold water and then drain the water. Serve the pasta on a plate and drizzle with meat sauce.
If you eat leftover pasta, you can put the pasta into the Geryon vacuum jar. Then use a vacuum sealer for vacuum sealing, which can extend the preservation time. Will not waste your ingredients and heart!

Spring Awards! Why not make yourself a spaghetti for your family and lover? Let's do it with Geryon!
Geryon Introduce- Kitchen Appliances Food Assistant 0
Geryon have been specialized in the small kitchen appliance filed over 6 years. We make the production of "GERYON" brand products. All our products are pass FDA, ETL approved and BPA-FREE certifications. Moreover, we have a strong development department that can create about 30 new models each year. Now we have bestseller products as E2800, E2900, E2901, E2903, E5700, E1600 food vacuum sealer, vacuum bags and rolls. We are not only strive to help people save time, money, and food. We also help keep kitchens running smoothly and efficiently. All of our vacuum sealers and so on products, they are perfect for busy families or entertain people. They also the Low-temperature vacuum cooking partner.
Geryon is a company which is focus on bring eco-friendly and biodegradable products to every people. After we saw many pictures that plastic products hurting animals. We began examining our lives ways in which our daily use of products. Become the partner with nature by limiting waste, reducing the global footprint and preserving natural resources. The driving force behind of us is all things natural. Securing the future of our children and planet future. That will always be at the forefront mission of Geryon.