GERYON Wholesale Distributor Application
GERYON Wholesale Distributor Application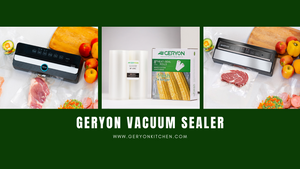 MANUFACTURER OF PROFESSIONAL PACKAGING EQUIPMENT
Geryon vacuum food sealer

ABOUT GERYON
The perfect packaging partner
Geryon is a manufacturer of professional food vacuum sealers. We can work with nationwide exclusive and extensive network of reps and dealers. Our focus is on offering value for money, on fast delivery times and on the efficiency of our service.
MARKET LEADER IN VACUUM SEALERS

Why work with Geryon?
Since the Geryon company's founding in 2016, we specialize in professional food vacuum sealers. All our products are pass FDA, ETL approved, and BPA-FREE certifications. We develop. We manufacture. And we distribute. Worldwide approximately 240000 machines a year to a network of in more than 80 countries. Learn more about Geryon, the perfect packaging and sous vide partner.


⚡ Fast delivery times
⚡ Competitive pricing
⚡ Quality brand
⚡ Complete range of machines
⚡ Full support in marketing and sales
⚡ 2 years warranty

GERYON'S VACUUM PACKAGING STORY

Our mission
Geryon is a company that is focused on bringing convenience and keep fresh ways to every people. After we saw many pictures that a lot of food and money are being wasted from people. We began examining our lives ways in which our daily use of products. Cultivate simple and convenient living habits and save living expenses. These actions can reduce waste for us. Become a partner with nature by limiting waste, reducing the global footprint, and preserving natural resources.

Once you find something great, you'll want to share it with your customers!

If you would like to carry Geryon® in your brick-and-mortar store or are reselling our food vacuum sealer, vacuum bags, vacuum rolls or chamber pouches through your online store or company, we would love to speak with you.

If you are ordering more than 50 sets, please contact us about wholesale pricing. Free ground shipping on monthly case purchases. Competitive freight pricing to apply when applicable.
Geryon also can support the custom service. It includes OEM/ODM services such as the development of new models, product logo customization, and packaging customization. According to customer needs, the factory will provide private customized production services.


Sent the application below in email or messenger, we will get back to you right away.
Email: sale@geryonkitchen.com
Messenger online: m.me/GeryonKitchen